Recently I was fortunate to conduct an interview with Roland Neubauer (vocals, guitars, drums) of WitcheR. He spoke about the band's latest releases, lyrics, future plans, his label, favorite music/literature and last but not least on Hungary's underground scene. Dive in his answers and listen to their majestic music!!!



Hails Roland! You've just re-released the material of the "Néma gyász" EP (2012) along with a bonus track called "Keresztúton" taken from the split with Velm via your own label Filosofem Records. I assume this CD release was issued to celebrate the band's 10th anniversary, right? Please go into details regarding this special reissue and the merchandise you've printed alongside.
- Hello Kornél! Greetings to the readers! That's right, in 2020 was 10 years since WitcheR was officially formed, and we wanted to celebrate that with something. Initially, we only planned one t-shirt, but we have been talking with Karola for years that our forgotten "Néma gyász" EP, which received very little attention at the time, should be released in an appropriate form, on a factory CD. The ideas followed one another, so I remixed the 2012 recording, got a new guitar sound, a new drum track and a new master, we made a new cover for it so we could celebrate with a complete package. More importantly, this CD could not have been created without the fans! Our previous album "A gyertyák csonkig égnek" was so well received that it covered the release of this album. Thanks to everyone who contributed to this!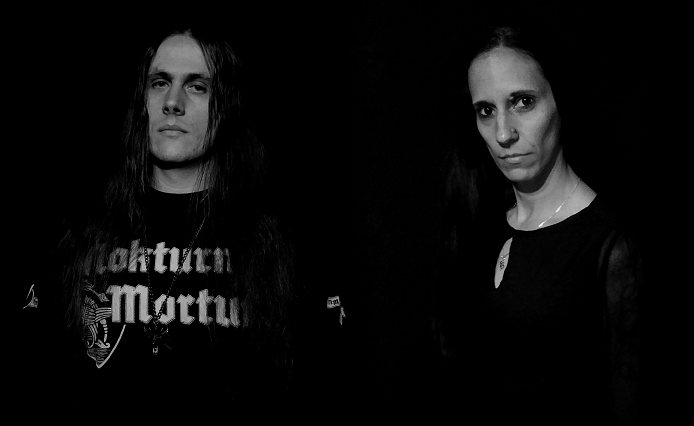 What should we know about the activity of Filosofem Records? List us your roster as well as the plans of the label for the 2021 year.
- Filosofem Records is our own label, created specifically to have a name behind WitcheR and related projects. If you're standing there with an author's edition in front of a magazine or another publisher for a trade, no one takes it seriously. Unfortunately, I say this from experience, but there are many more opportunities before us. However, external bands are not accepted by Filosofem Records, no matter what I say everywhere, there are weekly inquiries. The plans for 2021? In the first half of the year, Frozen Wreath's debut album "Memento Mori" will be released on CD and cassette. This is a joint project of WitcheR and De Profundis. Then, in the fall of 2021, I plan to release the third Vrag album, which may also be released on CD and cassette under the title "Harcom". And in 2022, we are planning a new WitcheR record, we are already working on it.
Your latest full-length album "A gyertyák csonkig égnek" (2019) turned out to be simply fantastic. How the reactions to it were so far? How would you estimate its success from your own point of view?
- Thank you for your appreciation. In fact, we were also surprised at how good the feedback came on the record, we got an amazing amount of support from the scene and the fans as well, as I mentioned, thanks to this, our "Néma gyász" EP was now able to release. We've invested a lot of money and work in getting the record to get everywhere, and so from a perspective of more than a year, I have to say that everything that happened after the release has exceeded all our expectations.
The cover artworks, "A gyertyák csonkig égnek" and "Néma gyász" (2020 version), were created by the one and only Anvil Kvlt. And to be honest, they fit and support WitcheR's musical soundscapes very much. Was he imagined/created the end results on his own or you've submitted precise and strict ideas to him?
- We are very satisfied with the work of Anvil Kvlt! With "A gyertyák csonkig égnek" were very precise instructions, I had a very definite idea of what I wanted to see on the cover, in the case of "Néma gyász" we used an earlier painting on the front cover, and the drawing on the back cover was purposeful and personal. I think I like it better, it has a deeper say than the main cover, but the two together have meaning.
Since the beginnings you're working exclusively with Karola Gere (keyboards). So WitcheR was always meant to stay a duo? What does the overall process of songwriting look like? When do the keyboard arrangements enter into the picture?
- Yes, WitcheR is Karola's and my work, it was so, so it is and will be so. Only two of us are capable of what you hear on our records. The process of songwriting usually happens with Karola dreaming of some tunes, maybe I'll bring one, and then we sit down and see what we can get out of it. The goal is to create catchy and atmospheric melodies, if a theme comes up that we don't feel strong enough to do, we tend to discard it.
Let's talk a little bit about the lyrical content of WitcheR. What kind of topics do they embrace? Where do you get the inspiration for them? What literature is in use when it comes to write your ideas down? When and what was the last book you've bought? Name us five of your favorite books, please.
- Most of our lyrics are about total opposition to the modern world, modern values, grief, the transience of human life, and so on. Inspiration is most often given by my own life, I walk with my eyes and my ears open, wherever an idea or a random sentence can inspire me, unfortunately we live in a world where I don't have to look for inspiration, I find it on my own. Five favorite books? You ask for the impossible. Although I don't read as much as I would like, I still couldn't name just five books that are my absolute favorite. The greatest influence was and is made on me by Hungarian literary works, the works of Jókai Mór, Móricz Zsigmond, Márai Sándor, Wass Albert, but also the works of Dostoevsky, Evola or Sapkowski are also on the list. There's everything here, from fiction to philosophy to fantasy novels, and the list would change pretty much, it depends on my daily mood.
Am I right to suppose that Hungary's underground scene these days is looking healthier and stronger than ever? First of all, I mean the unity between the fans, bands, labels, distros, mags and 'zines. What's your personal opinion on that? Second of all, would you be so kind as to recommend a few recent releases out of Hungary?
- Recently, a lot of bands have formed in the Hungarian underground, interesting formations are appearing in a row, but most of them are either in one place, waiting for a miracle, or just trying to climb on the other's back. Of course, great respect for a handful of exceptions! Of course, I wouldn't call the situation bad, but I've been part of the Hungarian underground for more than 20 years, I also made fanzine at that time, and honestly there were better times at home, but nostalgia may speak only of me. I'm not complaining, we're friends with a lot of bands, we're good with more labels and newspapers too, we're trying not to stir up contradictions, but to increase unity. He who asks for help from us in one way or another, but we help, and whoever approaches us with good intentions, we also receive, ignoring everyone else from our vicinity. Recommend some fresh looks? The last Aetherius Obscuritas was definitely an outstanding work at home, but the last Vvilderness and the last Ygfan – especially their split with Svoid – are absolutely at the forefront, for example, then Humugur, who created a surprisingly quality thing in death metal, but the list is running out now for me here.
I see you are very much into the music of some black metal hordes from Ukraine. Which bands/records are your most favored ones? Have you ever been to Ukraine?
- Since there is a lot of Slavic blood (also) flowing in me, perhaps instinctively, but I really like the work of Polish, Ukrainian and Russian black metal bands, I think amazing things are going on in these arenas. I like a lot of genius bands from Ukraine, Moloth and Nokturnal Mortum are absolutely at the forefront, but there I don't forget to Hate Forest, Drudkh, Kroda, Castrum and of course Severoth, Morok and Endless Battle related to its creator projects. Unfortunately, I have not been to Ukraine yet, but of course there are plans. Kárpátalja is most interested in, because of the Hungarians there!
What do you know about the Transcarpathian region (Kárpátalja)? I mean here the bigger cities like Ungvár, Munkács, Beregszász, Técsõ and Huszt among others.
- Unfortunately, not as much as I would like. Obviously I know the bigger cities, the situation and trials of the Hungarians in Kárpátalja, the historical sights, the castles of Munkács, Ungvár, Szerednye. One day I definitely want to see the Székely Gate in Szelmenc, the Tatar Pass or the beautiful Hoverla. Yours is a wonderful country, I can't wait to discover it in person one day!
Finally, please reveal the future plans of WitcheR. What should the fans expect from you in 2021?
- The year 2021 promises to be especially quiet for WitcheR. There will definitely be no new release, but recordings for the new album will begin, we want to devote as much time as possible to releasing it by the end of 2022. We don't want to rush it because it doesn't make sense, we want to release a mature material that is also mature in production. Of course, we may still have a little surprise in 2021, but for now, everything is variable, so let's stay that way!