If you feel melancholic, crave for loneliness and wish to fit it with an appropriate musical alloy then I darkly advise you to check both albums by Sinister Downfall. Eugen Kohl, the sole member behind the German post-apocalyptic funeral doom metal unit, mediated the answers and transferred us some details on "A Dark Shining Light". Perceive the age of loneliness!!!



Hail to thee, Eugen! First of all, let me congratulate you with the release of "A Dark Shining Light". It's indeed a great record! How's the response of the doom metal fans and the media to it so far?
- Hello Kornel! Thanks for your interest.
The response so far has been very good and I am glad that the album has found its place.
It was issued 25th of May, 2020 by the same covenant of labels, namely Funere and Weird Truth Productions, as your debut album "Eremozoic". How did you hook up with them? What should we know about the sales of both?
- We started working closely with Funere even before the release of the first album. The communication has always been excellent and it is one of the labels, where the owner is really more about the music and less about the business. "Eremozoic" was the first release of the label at that time, which is very special to me. It is also a great honor for me to be featured on a label with bands like Evoken and Mournful Congregation. But of course, these circumstances were completely uncertain in the beginning. Furthermore, it was something special that Weird Truth Productions participated in both releases, helped to make them possible and cared for our Asian friends.
The songs of "A Dark Shining Light" follow the designated path of "Eremozoic", though they were definitely equipped with a heavier sound production. How do you see it? By the way, what motivates you to write such desperate, melancholic and post-apocalyptic funeral doom metal pieces?
- I learn from each of my releases and this does not only concern Sinister Downfall. I always try to improve and optimize my recording processes.
Funeral doom is generally an excellent tool for expressing the emotions you describe. I take the motivation for this kind of music from personal thoughts and things I am involved with. Probably it is a kind of catharsis. Inspiration from literary works also plays a very important role.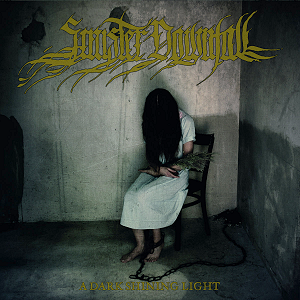 The cover of "A Dark Shining Light" was created by Dunkle Stille. She was the author, the model and the photographer in one person. What does it symbolize? Is there any special or personal meaning there?
- Yes, the cover is closely connected to the music and has a deep, personal background. The image symbolizes "resignation to hopelessness". It shows an innocent girl locked up in a dark prison. The chain on her leg intensifies the already oppressive mood. She holds field plants in her hands, which actually symbolize freedom (wide field, air, light). However, these are cut off and slowly die in her hands, adding additional tragedy and despair to the picture. The girl in the picture understands and accepts that she will never get out of this prison again.
Please tell the readers a little about the lyrical side of Sinister Downfall. What topics do you dissect on the current album? What are the influential things when it comes to write the lyrics?
- Lyrics play a less important role for me personally than music. I have always found sounds more suitable for conveying emotions than words. But of course, they should also reinforce and underline melancholy. As with music, again personal things play a big role and literature, which makes me think and creates a certain atmosphere.
You are responsible not only for the entire songwriting, but for all the recorded instruments as well as mixing & mastering. When did you start recording on your own?
- I have always made music myself. Something else was never out of the question for me. I put music on the same level as painting, writing, etc. All this is also done alone, because it serves to represent one's own thoughts and emotions, be it in pictures, writing or sound. And since I don't want to tell anyone what to play, I just play all the instruments myself. Moreover, I still feel the same amount of enthusiasm for playing instruments as on the first day. So the recording process is something very positive for me and I like to do it.
You are involved in dozens of other bands and projects too. The musical palette is spanning from black metal to doom and death metal. How do you manage to focus and write materials for all of them? Which band's new record should we expect to be released next?
- For me, each genre I deal with has its own function and gives me special emotions and impressions. I glorify dark music as a whole.
I am constantly releasing new material. For example, today, September 13, the new Dark Fields album "Oblivion" has been released, which is a close collaboration with the already mentioned visual artist Dunkle Stille. With the singer Malduchryst, who is a close friend of mine, we recently released the first album for our band Cinereous Rain, in which I am also involved in the songwriting and all instruments. There will be much more in the future, because music is a big and important part to me.
What kind of music do you listen to with pleasure these days? Also please mention ten of your all-time favorite albums.
- My taste in music is widely scattered throughout metal and parts of industrial. It's hard for me to list all-time favorites, because so many releases have affected me, but bands that have influenced me a lot in general are Reverend Bizarre, Electric Wizard, Incantation, Hate Eternal, Nile, Moss, Ommadon, Paysage d'Hiver, Lustmord and Kammarheit. There are countless more bands, but I would forget someone anyway.
Besides the CDs do you have in plans to make other Sinister Downfall merchandise (T-shirts, hoodies, etc.)?
- First thoughts are already there, but unfortunately I cannot make a concrete statement at the moment. Sinister Downfall is still a quite young band and surely there will be some merch in the future. At least I hope so.
Please shape your last thoughts at the end and send your greetings to all the Transcarpathian Sinister Downfall fans as well as funeral doom metal maniacs. The space is yours.
- A very special thankyou goes to Dunkle Stille, for her visual and personal contribution to my music and inspiration. Of course, I would like to thank all listeners and supporters of my music as a whole, be it Sinister Downfall or anything else, and the kind words they send me. Thanks for your contribution to dark music!
Also I would like to thank Jane (Funere) for the excellent and close collaboration. This is a label that some others should take an example from. Last but not least, many thanks to you for the interview and your contribution to the music.