Let me introduce you Selfgod, a fresh blackened death metal band fronted by guitarist Serge Streltsov (ex-Necrophagia, ex-Automb). His debut material is on the way, so keep your eyes wide open, but until then read the following interview to get a glimpse into the musical and lyrical sides of Selfgod!!!



Hail to thee Serge! Just a few weeks ago you've formed Selfgod, which is a new black/death metal band of yours. Tell us a bit about the line-up and perspectives of this formation.
- The band will consist of just me as the only official member. In studio I will do lead vocals, all guitars, bass and keys. Scott Fuller from Morbid Angel will once again record drums. For live I will do guitar/vocals and will hire live musicians as I have done with Automb.
The debut album of Selfgod is going to be a mix of material you had written for Necrophagia and Automb. Could you please share more details about this musical conception? How many songs in total will be recorded for Selfgod's debut record?
- Yes, I've had about 3 or 4 songs I had left from Necrophagia days that I wrote. The other 5 I wrote for Automb since the beginning of the pandemic. So yea it'll be 9 songs. The material is a mix of classic necro sound that I tried to make heavier and the Automb material is a bit different from what I've done on the last 2 records. I would say this album is going more into a death metal direction. It's a lot heavier and possibly more catchy. I even introduced a new guitar tuning on some songs.
Lyrics-wise what kind of themes will you going to dissect there? What inspires you lately in terms of writing?
- Lyrical themes will be mostly on Slavic Paganism and self-spirituality. It is something I wanted to do for a while now. These are the subjects I know very well. Also I want to connect to my Slavic Heritage. I feel there isn't enough of that in the extreme metal scene, everything is usually about Scandinavian paganism, Satanism or gore.
I've noticed that except for the drums you are in charge to record all the other instruments (guitars, bass & keys) and vocals too. Hopefully it doesn't mean that Selfgod will only remain a studio project? Do you have plans to complete the line-up later on and to play live shows in the near future?
- Yes, like I said in the previous question I'm doing mostly everything, but I already put together a live line up. I just need one more piece to the puzzle. I will be performing live as soon as it is possible in my region. We already have been rehearsing.
I know it is a little bit too early to ask, but is there any label interest yet?
- There's interest from a label I worked with previously, but I'm going to look around before I commit to anything.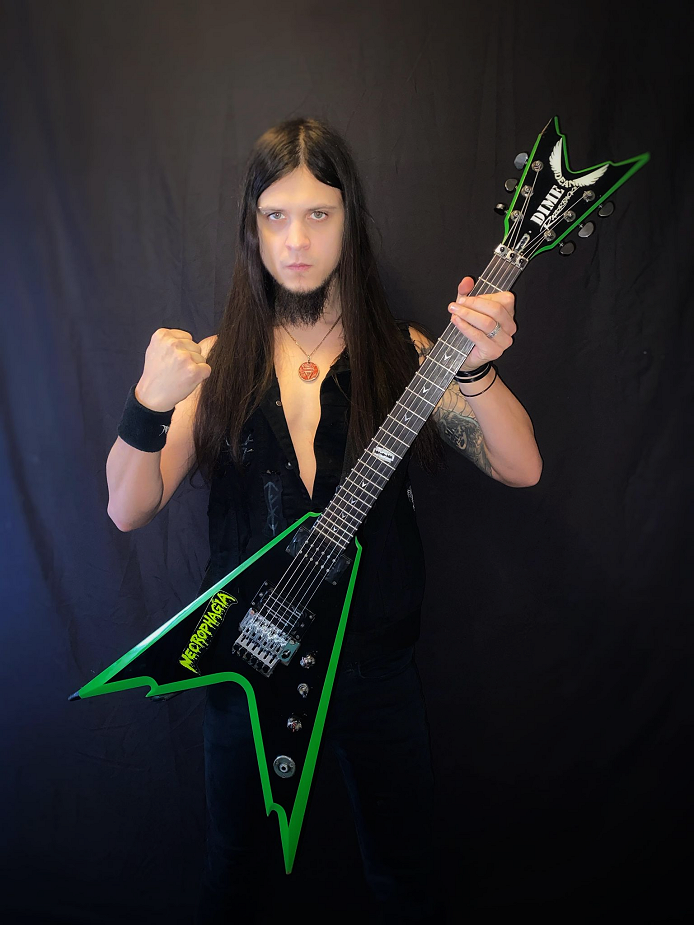 Besides music what other hobbies do you have? By the way, is there any job you do on a daily basis? If so, what kind of it?
- Honestly music is my life and it's all I do. Most musicians have other hobbies, but I don't. I like walks in nature and camping out in the summer, but that's about it. I also like working out, but I feel like that's just regular activities.
For my daily job I work as a Russian language interpreter here in the US. I've had this job for many years.
How many guitars you own actually? Which guitars are your most beloved ones and why? Is there a particular one, which you use only for studio recordings? Oh, and at what age did you start to play on guitar?
- I currently have 5. I've sold one and sent one back recently. My favorite guitars are Deans. They are the best on the market in my opinion and look very original. I've been playing them for 14 years and always had at least one in my arsenal. My favorite one would have to be a Dime Razorback V. I've had it for 13 years and it still plays like new and remained in good condition. Dean makes quality stuff! For studio I have used ESP/LTD guitars previously for Necrophagia and Automb, but this time around I'm planning on using only Deans. I have a couple more coming to me in a few months.
I started playing guitar when I was 13. Pretty much like most musicians. So that'll be 16 years of playing this year.
What kind of music do you listen to lately? Which record did you buy last? Name us your Top 10 releases of all time.
- I've been listening to a lot of classic rock and glam metal and even some 80s pop. I got kind of burned out on metal and extreme metal in general. But doesn't mean I don't listen to it at all. Just a lot less than I used to. I guess that's what happens with age, you end up going back to what got you into music in the first place.
Top releases is a tough one. I'm just going to randomly pick some: Kiss – Alive!, Iron Maiden – The number of the beast, Rammstein – Sehnsucht, Darkthrone – A blaze in the northern sky, Morbid Angel – Domination, Immortal – Sons of northern darkness, Watain – Sworn to the dark, Behemoth – Demigod, Nile – Annihilation of the wicked, Belphegor – Blood magick necromance.
Last 2 records I bought on vinyl are Marduk – Panzer division Marduk and Kiss – Rock and roll over.
How do you see the future of the underground bands and the music industry in terms of the pandemic, especially the live performances part of it?
- I feel the future is going to be rough and good at the same time. It's going to weed out a lot of bands, but it will also have a lot of bands touring once we all get the green light. It'll definitely be competitive. It's going to be hard to find venues to play since there are only so many left in business. But I have nothing but determination to get back out there and kick ass regardless of the setbacks and the future standards.
Well, that's all I had. Please finish up the interview by sending your darkest greetings to all the Encomium readers and fans of black/death metal in general.
- I want to thank Kornel and the Encomium magazine followers for this opportunity and, of course, to all the Necrophagia and Automb fans and all the extreme metal maniacs out there.
Stay positive and, of course, stay safe and metal! Cheers to all!