It's no exaggeration to say that Scour's new EP exploded into the black metal scene like an unexpected comet. The US black metal supergroup featuring Philip H. Anselmo, John Jarvis, Derek Engemann, Adam Jarvis and Mark Kloeppel returned with a frenzied vengeance to conquer the throne. I've asked Mark regarding the success of their latest EP and Scour's future perspectives.



Hello Mark! Scour's new 6-song EP called "Black" has just been unleashed upon the underground masses. What are your feelings towards the accomplished material and the feedback from the fans & media so far?
- It's the most scathing and refined material the band has released, and probably the most extreme music I've ever heard Philip do... which is saying a lot all things considered. From what I'm seeing, an overwhelming majority are giving positive responses. Of course, you have some folks out there yearning for the big guy to recreate 1990 Pantera, but I'd say those folk kinda missed the point... which was to keep getting heavier and heavier. Pantera did write "Cemetery Gates", etc., but also wrote songs like "Strength Beyond Strength", "Slaughtered", "Suicide Note Pt. II", and other songs pushing the envelope of what could be heavy in the mainstream metal world. Scour is just taking that approach a step further.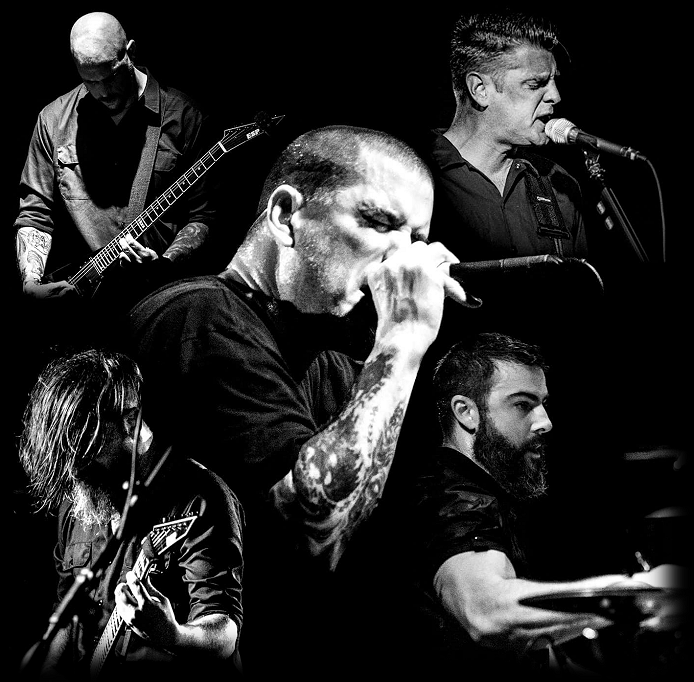 It was actually premiered by two labels, namely Housecore Records and Nuclear Blast Records. I know that the first one was in charge of releasing your materials from the very beginning, but how the second label came into the picture?
- They simply approached us about signing the band in total when we were making decisions on worldwide distribution. Since Housecore is already pretty established in North America, a collaborative effort was established for this EP and future releases.
In support of the EP, you've managed to release a few video clips. Especially I liked the one done for "Doom" featuring the LTD Black Metal Series guitars. You've been using the M-Black Metal model there. How it feels to play on it? Tell us your impressions, please. I've also noticed that for Misery Index you've selected LTD's Phoenix Black Metal model. I suppose you use different tunes for both guitars, right? Can you please go into details what kind of strings, amps and cabs you use for Scour and Misery Index respectively?
- Sure. I've got a full arsenal of Black Metal series guitars thanks to ESP and also the ESP guitars I already have. I've used ESP from day one, and have no intention of switching. I use Ernie Ball Not Even Slinky's for both bands. M.I. is in C# standard, and Scour is a step up in D#/Eb standard tuning. When I can, I use an EVH 5150 III with my Mooer GE200 in the loop for effects for main gigs and studio. For fly-in gigs, where my idea amp isn't available, I just bring my Mooer GE200 and use a preset with my chose preamp on it to jack into what's available. That's true for both bands. Also, the Mooer is great. It has high quality effects and amp tones to choose from in a compact simple platform that runs about $300USD. So it's pretty cost effective to have a back-up unit and/or replace the equipment should it break due to road-wear.
The EP has some really famous guests involved in, like Pat O'Brien from Cannibal Corpse, Erik Rutan from Hate Eternal and actor Jason Momoa (Aquaman, Braven, Game of Thrones, Justice League and so on). While the appearance of the first two musicians was kind of evident for me, how the hell did you hook up with Jason? What's the story behind it?
- He came out to the final Slayer tour when Philip H. Anselmo & the Illegals played in LA. Derek Engemann, the main guy for Scour, also plays bass in the Illegals. So, they met and became fast friends. Jason is a Pantera fan, obviously, and jumped at the chance to be on the Scour record. We really appreciate our Scourboy Momoa, and his help spreading the good word.
You've joined Scour in 2017 and your first recording with them was accomplished for the cover version of Bathory's classic "Massacre" in 2019. Have you ever thought before that once you would play with Philip H. Anselmo in a band? How is it, by the way?
- I was just barely 13 years old when I saw Pantera live for the first time, and it was my first metal show. What an introduction! I saw them everytime they came through, and they are responsible for me getting deeper into this stuff. So, when I was invited by my friends to come jam in Scour, it was very much a 'full circle' event for me. He's the best frontman metal has ever seen, and also a super cool and humble person in general. Whenever we jam, it's like a week-long sleepover at your coolest friend's house.
Before joining Scour you've been playing exclusively death metal and grindcore. How was it for you to cope with the black metal riffs and the Nordic vibe in general? Would you please name us some of your favorite black metal albums here?
- Well first, I don't think Scour has a Nordic vibe per se. The relentless trem-picking was definitely something my body had to get used to, and it took a minute to get that muscle memory. One thing you don't want to do is fake-strum what should be very fast picking on those chords. You should be keeping up with the blast. And to do that correctly is very strenuous... especially playing an hour set. As for favorite BM, I appreciate the various waves. So If I were to trace through one album from each, it would start with Bathory: "Under the Sign of the Black Mark" through Emperor: "In the Nightside Eclipse" to Dark Funeral: "The Secrets of the Black Arts" to maybe some USBM like Panopticon.
Scour plays live pretty rarely and the actual situation doesn't look good at all for asking you about any plans to play live in the near future. However, a live stream would be a cool thing to schedule. Any thoughts regarding this possible option?
- I'm not really at liberty to say at the moment. But you can probably guess...
Since 2002 you and Derek are playing together in Cast the Stone. What news can you tell us from that camp? Are you going to release some new stuff soon? Oh, and I see there's also a new Misery Index album on its way as well. So please enlighten us as many details as possible about that release too.
- Yeah, both those albums are in the works. We hope to be complete and releasing late next year, but we shall see how things progress.
Thank you so much for taking the time to answer my questionnaire. The last propaganda is yours.