Hungary's new-born and well-seeming death metal entity – Nygmalion – is 100% ready to catch your attention to their debut album "Deluminate" coming out in May. I've questioned drummer Gergõ Gazdag about the new start, the new record and his musical tastes. Read on and enjoy his laconic answers below!!!



Nygmalion's history started in the beginning of 2020, but it has a strict connection, both music-and members-wise, to Nigromantia. Tell us what's the difference between these two formations and why you decided to transform Nigromantia into Nygmalion? By the way, what's the meaning of Nygmalion?
- It was hanging in the air for quite some time now, I first floated the idea when we were roughly half-way through the writing process. With David, being a full member now since the last record, we have been writing songs and riffs with different flavour, style and approach. And you know there are moments when you ask yourselves 'does it fit?' and we shook our heads no. But we liked and were confident about the new direction and we continued the creative process without asking the same question any more. No matter what ideas we came up with, we asked the question do WE like it. This way we could experiment with ideas that were not Nigromantia compatible without any constraints. I thought that this way we would end up with an incoherent album, but on the contrary. At the end we managed to put together a well-rounded and versatile metal record that we are all proud of.
I named the creature Nygmalion, which is present in the song bearing the same name. This was the first song that came together for the new material, laying the foundation of the sound and direction we ended up on. It is a creature inside me that has been fed with grudge basically from the beginning, ending up in paralyzing hatred that I should have let go long time ago.
You've recently premiered an official lyrics video for the song called "Nygmalion". It's an ultra-catchy, massive-sounding melodic death metal piece with incredible solos and a dark yet epic vibe. What should we know about its lyrical content and in general regarding the lyrics of "Deluminate"?
- Thanks, I am glad you like it!
Most of the lyrics were written by me – this is my first attempt as a lyricist – and I wanted something that I can relate to. Things that I experienced, went through, felt, survived or sometimes dreamt about. It manifested in various topics, for example I dedicated the song "Human Eclipse" to the event of me turning 30 years old. I have never been your typical guy who got depressed easily, but it was very hard on me. Facing your own mortality and realizing that the fun days are over. Luckily the depression went away and got dissolved with 20+ friends and some substantial amount of substances during a 3-day friend fest, but still it was a hard thing for me to digest.
Another example of personal reference is the story behind "Twist of Fate". I was having the worst, most horrible hangover and the guys came over to my place to demo up the song. Best timing ever, probably I was still WUI (writing under influence), and I dedicated this song in respect to my body that it had to endure these kinds of poisonings every time and I should not wonder when one time it will say 'STOP'.
Fortunately, the others went along with my lyrical content and also pitched in with their ideas for some of the songs, which were in alignment with my ideas.
Your debut album "Deluminate" will feature 12 songs and it will be available for the masses on 15th of May, 2020. Where did you record it, who was in charge for mixing and mastering it? Which label will be going to release it?
- Our previous label disappeared last time, so we are going to release this one by ourselves. Recording was not an easy process. Now I live far away from the guys, I recorded the drums here in the capital, guitars were recorded at David's place and we recorded the vocals in a third place, so there were a lot of logistics involved. Then we took the material to István Simon to No Silence Studios for mixing and mastering. We already had a pretty good vision in our heads how it should sound like, but István took it to another level. He did an awesome job and I think we managed to get out of the songs what we envisioned beforehand.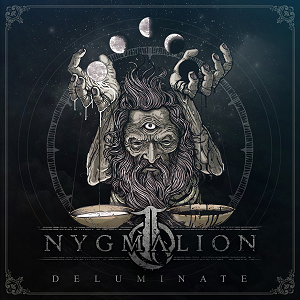 What the cover artwork of "Deluminate" is going to symbolize? Is there any hidden meaning there? Tell us more about your ties with Lahar Arts.
- A buddy of mine recommended Lahar Arts. I looked up his artworks and I immediately knew that he is our guy – their drawings just blew my mind. I contacted him and he was very cool – it seemed we knew each other for a long time. Both artworks – for the song "Nygmalion" and for the album: "Deluminate" – are based on his drawings. The phoenix-like creature is symbolizing Nygmalion creature itself. The album artwork is symbolizing the music on this record, we are showing different sides of ourselves, just like the moon, sometimes with full of light, other times full of darkness, but still being the same entity every time.
You are from Nyíregyháza. Could you please talk a little bit about its underground scene? Any bands, studios or music stores you would warmly recommend us to check out? How do you actually see Hungary's underground movement? Which bands are you proud of?
- When I was young there were plenty of good bands, there were places where underground music was welcome, there were concerts every week. Today? Nothing. It saddens me that we cannot play in our hometown, the closest place is in Debrecen where we can perform. If I have to name one band to be proud of it would be Angerseed – we've been close friends with Péter Mányák for almost a decade now, his enthusiasm and dedication in the underground scene is remarkable. I stopped counting how many times we shared the stage with them.
After the release of "Deluminate" I assume you're going to perform its songs live as well. So where can we see and catch you playing live in the very near future? Can we expect you to visit Ukraine too?
- Due to coronavirus pandemic, I cannot tell you right now, but we are planning extensive touring with the new material. Ukrainian fans were always good for us, if the opportunity comes, we will definitely play there for sure.
In 2014 you've played with Nigromantia in Ungvár. How did you like the city, the local fans and the venue? Any good or bad memories about that visit?
- Oh, fun times. There was a problem with David's passport, and we had to substitute him. Péter Fehértoy (Andartar) learned all the songs, did a great job, we did one rehearsal with him before the show. Unfortunately, we did not have the chance to do a sightseeing tour, because those were troubling times in that area of Ukraine at that time too. After all, the show was great and the fans and you guys were great to us, we had a fun time there. I remember some vodka and some dispute on the border going home, but it's all blurry.
Could you please name us some of your favourite bands/albums? Which bands motivated or influenced you to start playing death metal as well as to form Nigromantia in 2008?
- I was not there when the guys started Nigromantia, I got into the picture much later.
My favourites are: Anthrax (Charlie Benante is my favourite drummer of all time), Metallica (pre "Load"), Iron Maiden, Dream Theater (Mike Portnoy era)/ Liquid Tension Experiment, Cynic/Gordian Knot, Death/Control Denied, Opeth (pre "Heritage").
Recent favourites: Into Eternity "Buried in Oblivion", Gojira "From Mars to Sirius", Ne Obliviscaris "Portal of I", Hypno5e "Acid Mist Tomorrow".
As far as playing death metal is concerned I've never been a fan of 'all time blast beat' bands, but I was always fascinated by the drumming on Death records, especially Sean Reinert's and Richard Christy's playing. Same goes for Martin Lopez's performance in Opeth as well. They are the main death meal influences for me.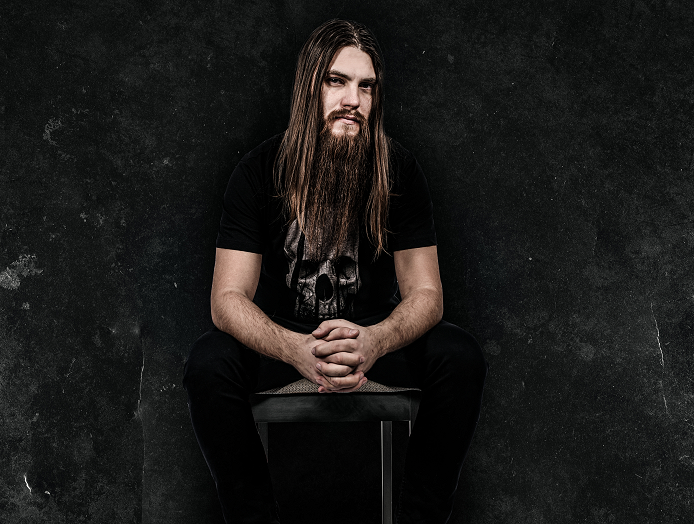 What literature you prefer to read and what kind of movies you prefer to watch? Please name us some of your favourite books & movies. The last book you bought was?
- I am more of a movie guy – I prefer horror-, thriller-, dark comedy movies, I just don't understand why they can only make 1-2 good movies per year, others are garbage. Please recommend me some good ones if you can! (Ah, sorry. It's not my cup of tea anymore – Ed.)
I am not much of a book reader type, recent books I read is the documentary books of Bud Spencer and Terence Hill and "I'm the Man" the biography book of Scott Ian.
Well, thank you very much for taking the time to answer my questions.
- Thank you! We wish the webzine and its readers all the best.