SCREAMING SKULL
Issue #13, 2020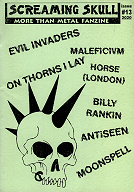 The thirteenth issue of Screaming Skull with their intriguing motto "more than metal fanzine" is about to offer seven interviews, namely Evil Invaders (the thrash/speed metal dealers of Belgium), ANTiSEEN (the oldie but goodie punk rock from US), On Thorns I Lay (the Greek gothic rockers), Maleficivm (the disbanded legend of Netherland's doom/death metal scene), Horse London (the UK hard rock classic from the past), Billy Rankin (ex-Nazareth) and Moonspell (the gothic doomsters from Portugal). These interviews are long, kind of in-depth ones with lots of cool info. So were great to read them through. The number of reviews in this issue is forty, while the total amount of A5 format pages is 56. It's fully written in Russian, has some mistakes here and there, mainly in the bandnames. Print quality- and design-wise it's average, but for an underground publication it's more than fine. This number comes with an editorial foreword and I think you can still order it at the bottom links. Go ahead and support this Ukrainian b/w 'zine!!!
SCREAMING SKULL
Issue #14, 2021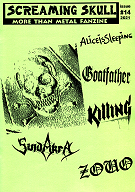 The latest number of this cool sounding underground 'zine from Zaporizhzhia has just landed in my hands. It's an A5 format b/w edition with laser print quality, which quality-wise mostly depends on the image drum and the quantity of the toner left in the cartridge. In this issue you will be finding 38 pages filled with five interviews and 38 reviews. Not a big amount of information there, but it's decently done. So you can read therein great chats with Aliceissleeping (a London based rock band), Goatfather (a four-piece heavy stoner band born in Lyon, France), Killing (followers of old school thrash metal from east Jutland, Denmark), Suidakra (Germany's melodeath folkers) and ZOUO (the torchbearers for Japanese hardcore punk). The reviews are cool to read as well, as they are honest and most of the time rather detailed. But in turn, the absence of indicating their formats (physical or digital) is a bit confusing to me, especially in this damn digitalized world. The entire content comes in Russian language. From the minuses: plain design, no editor's foreword at all and lots of mistakes or typos there. In total I found interesting this number and can warmly recommend it for the underground maniacs and 'zine collectors likewise!!!
TALES OF THE MORBID BUTCHERS
Issue #7, 2020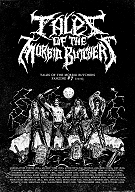 Thanks to Attila I've got the 7th number of the Tales of the Morbid Butchers fanzine as well. With its 220 pages this one is definitely the biggest beast of 'zines I have ever hold in my hands. One kind of a monster! The four impure writers of the Hungarian underground managed to collect an enormous content for this issue. Let's see the interviews first. You can read chats with Annihilation Vortex, Archaic Tomb, Atrocity Altar, Boru, Cist, Crippling Madness, Deathly Scythe, Diabolical, Galvanizer, Hatevömit, Haunted Cenotaph, Heinous, Hellbutcher, Humugur, Imperfect Souls, Indesiderium, Katari, Kromorth, Lucifer's Fall, Lux Nigrum, Marblebog, Mistcavern, Morbid Stench, Mörmoo, Nächtlich, Negro Bode Terrorista, Neverheard Distro, NGC Prod, Nihil Invocation, Nuclear Revenge, Ophicvs, Pathetic, Skelethal, Slaughtered Priest, Terrörhammer and Vrag/WitcheR. Impressive amount for sure. Next are the reviews and the articles. We can read them about vinyls, CDs, tapes, fanzines, books, concerts and festivals. Their number, if I have not mistaken, is 350 (!!!). And let me tell you, I was having great fun reading those humor-spiced writings, even if too many indecent words were applied by the quartet, he-he... Nevertheless, they do pretty well their job plus the quality of the printing is on a super high level. This A4 publication is written in Hungarian language. Oh, and I really liked the front and back cover arts by Anvil Kvlt. On the front we have the four editors depicted in Manowar's "Fighting the World" way, just everything is more rotten there, about death and zombies, aha-ha-ha-ha... While on the back we have Pokolgép's classic "Pokoli színjáték" album cover turned to an evil black and white graphics. This number is sick to the core! You've been warned!!!
TALES OF THE MORBID BUTCHERS
Issue #8, 2022
The new issue, which is the 8th in the row, from the Hungarian Tales of the Morbid Butchers fanzine delivers us a huge and maximally filthy content of underground read on its 144 pages. The A4 format edition comes with a superior print quality, though design-wise I found it a little bit chaotic here and there, kind of executed in the 80s DIY manner. Personally I like when the reading starts with an editor's foreword about the current number and the things concerned, so to have four lengthy forewords at once kind of impressed me positively. The four editors (Dr. A, Size, sorger and Sz.) packed this number with the following interviews: Abhorrent Funeral, Aske, Azazel, Black Hosts, Blizzard, Casket Grinder, Chainbreäker, Damage Case, Deprived of Salvation, Fanatic Attack, Gorgon, Hate Them All, Hell-Born, Hell's Coronation, Infernal Warlord, Mephitic Grave, Molis Sepulcrum, Necromantia, Niedergang, Sanguinary Misanthropia, Sexmag and Triumphant Cadaver. Then we have a page with an article about Tormentor's 2020 show in Tatabánya, a short writing on Gorgon's first gig in Switzerland, plus the usual bunch of vinyl/tape/CD/'zine reviews. Well, I've counted 179 reviews in total. Pretty good job for sure. Have to add most of the reviews were written with a good sense of "black" humor and in some obscene way, of course. By the way, this year they're celebrating the 10th anniversary of the fanzine and have in plans to release a second number around December. Already looking forward and hereby wish them good luck to make it even more unforgettable, not like there's any problems with the current one, aha-ha-ha... Oh, I've almost forgot to mention an important fact, this 'zine is fully written in Hungarian language, so only language experts or the chosen ones should order it!!!