Well, I always wanted to have an interview done with John McEntee, the mastermind of Incantation. Now that dream has been finally fulfilled and I am very happy about it. This band means a lot to all the true death metal fans worldwide. John was super kind and told in details some things about the past, the present and the future of Incantation. Behold the arrival of the diabolical conquest!!!



Hi John! There was a UK/Europe tour last year called "Eclipses time... Transcends death"? How was it? Please tell the readers your impressions plus which places caught your attention the most?
- Yeah, the "Eclipses time... Transcends death" tour was a total blast. I remember the Boston house (Boston Music Room) in the UK was really good. You know, all the shows were really killer, but that one really stands out as being a crazy one. I guess the UK is always pretty cool. Also the Metal Mean's fest in Belgium was really good. We played a whole bunch of really good ones in that run. There was Brutal Assault. We played on that one, which, of course, is amazing. Always hell of a killer time. Really all the shows were really good. It's just nice to get such a great response for the band after so long. Something we never really expected. But, yeah, we really had a great time on tour. Everything was really good. What else can I really say. Nothing really sucked about it at all.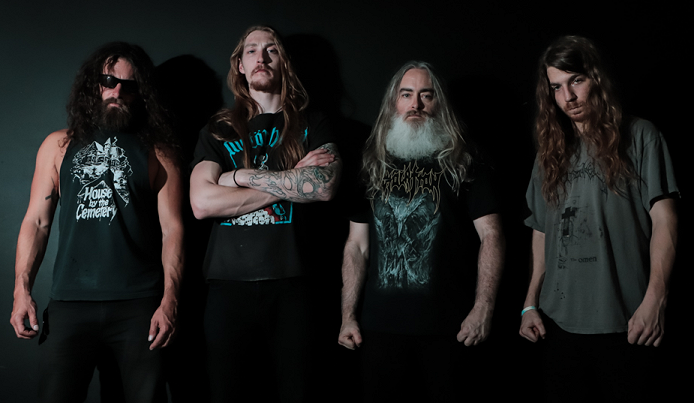 That tour was completed with a session drummer. Does it mean Kyle Severn is no longer part of the Incantation family? By the way, how do you like Shed the Skin's latest material "We of Scorn" and what's your opinion about the reunion of Estuary, Kyle involved in both?
- Yeah, that tour was great. Frank, I don't remember how to pronounce his last name properly, but it's Schilperoort or something like that, it's a Dutch name, really difficult to pronounce not knowing Dutch at all. Anyway, Frank has been helping us out quite a while now. He has been doing a great job, he's a great guy and he's a great friend. So it's always really cool to work with somebody like that. As far as that, it does not mean that Kyle is no longer a part of Incantation. Kyle just can't tour that much anymore, because of his work. But, I mean, he has a huge part in a lot of the band decisions, he still does a lot of songwriting and a lot of behind the scene kind of stuff. You know, he owns his own construction company, so it's difficult for him to get out of work and not having things totally fall apart on his end. Yeah, as far as Shed the Skin. I love them. It has a bunch of my friends in the band, the guys from Ringworm and Ash Thomas from Estuary and obviously Kyle. I like what they do. I like that style of death/thrash kind of thing. So, yeah, Shed the Skin's really great. Kyle is also been working with Estuary lately, which is another band I really like too. So it's really awesome. It's not like Kyle isn't playing anymore, it's just he can't tour, especially with our ridiculously long busy touring schedule he just can't do it. He spending his time working on other bands and other projects, when he's not working with us, which totally make sense. You know, we wouldn't expect him to sit at home and do nothing, waiting for us to come around. Yeah, I'm always looking forward to working with him, because Kyle and I really have a good musical connection. So usually what he does with Incantation or without Incantation it's something I really enjoy. So, yeah, it's awesome!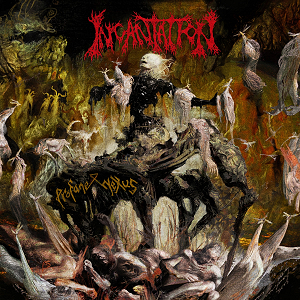 With your latest record "Profane Nexus" you've returned to Relapse Records. Why did you leave them back in the time and what was wrong with Listenable Records?
- Yeah, we decided to go back with Relapse after a long time. I think they did a great job with the "Profane Nexus" album. Basically, it just seemed like the right decision to make. I mean, they've been doing a great job with everything as far as our back catalogue and stuff. So there's no reason to try to find somebody new for this current album.
As far as Listenable. We had a couple of disagreements with them, but really the biggest issue was that they just didn't have the distribution that we needed in the US for us being a US band. When we were first working with him it went very well, and we re-signed with them around "Vanquish in Vengeance" time. He said that he's working on some really good distribution for the US and stuff, but it ended up never really coming together in a way that was good for us. Maybe it's fine for other bands, you know, like European bands, maybe it's not a problem, but us being a US band we wanted to definitely have our material easily available at a reasonable price in the record stores. We just didn't get it with Listenable. So we wish Laurent all the best with the label. It just wasn't the right place for us.
Sonny debuted on "Profane Nexus" (2017) as a full-time member of Incantation, but he played live with you as a session musician earlier and did some guest solos for the songs of "Dirges of Elysium" (2014). So how did he become a full-time member? Is there any interesting story behind it?
- As far as Sonny's involvement with the band. It started off with us just being at the right place, we were recording the basic drum tracks for "Dirges of Elysium" at his home studio that he has. So when the situation came up that we needed a guitar player he was right there and seemed really hungry and interested in doing it. So it seemed like the answer is right in front of us as far as who to get to finish up some of the solos that we needed for "Dirges..." and some rhythm stuff. Yeah, basically he kind of filled in the gap. And he did all the touring for "Dirges of Elysium" and it just seemed right to work with him on "Profane Nexus". And it worked out really good, it seemed like the chemistry was going really well, but unfortunately while we were recording the new album that we have coming up Sonny did not have as much interest in doing things in a way that worked well with the band and I think it's just a situation where he's just too good of a guitar player and wants to expand our sound more, which totally make sense, you know, it's sad, but Incantation just isn't the place for him to express himself the way he feels he needs to. You know, of course, we're very sorry to see him go. We actually really like him and wish him the very best. It's just sometimes things don't work out in a long term. So look out for some really killer stuff by Sonny Lombardozzi. I don't know if he's going to do solo stuff or work with another band, but I am sure whatever he does it's gonna be really kick ass and super talented. We really appreciate all the time we got to work with him and touring with him was an absolute pleasure. He's an amazing musician and a hard worker, and very nice guy. I totally understand his side of things. He's extremely way too talented to play in this band. I mean, we're more of like caveman just hitting on rocks.
The music Incantation stands for almost 30 years now is the obscurest of all the death metal forms I would say. How do you manage to write such dark and apocalyptic riffs all the way? What motivates you when composing, is there any trick or secret behind it?
- Yeah, we've been doing this for a super long time and basically I just really wanted to create music with a really dark aura to push the limits of darkness, heaviness, brutality. I mean I was really influenced by bands like Possessed, early Necrophagia, Necrovore, early Morbid Angel, you know, stuff like that, early Death, everything. And I just really wanted to push the limits further, you know, go to the next step. We wanted that blasphemous feeling, kind of like on "Seven Churches" from Possessed. It was a big influence on us, early on especially with riff writing. The dark stuff just really came natural to me. It's become a form of expression. So it's something I have to do. If I didn't do it, it just wouldn't feel right and I wouldn't feel comfortable. So I would still be doing music either way, if it was where we are with Incantation or if Incantation never took off I would still be writing music, because it's just part of one of my senses. There's no real secret to it. It's kinda just like I use my imagination to express my inner feelings. It's just very organic, very pure and natural. It's just I really like the dark side of life, it's intriguing. So I kind of express myself that way with the riffing and ideas that I have musically. Yeah, it's kind of crazy, 'cause sometimes I just get very inspired and I kinda feel like I have to write something and express myself musically. I guess it's a cool thing, because I have a place like Incantation to express the stuff and it's really great that I am able to find other musicians that are able to work with me and feel the same way about the kind of music I feel is very important for me to do.
What tunes are you playing currently? What should we know about your gear (guitars, amps, cabs, pickups, strings, pedals, cables, etc.)? Which are your beloved guitar models and why?
- Well, as far as what tunes are we playing currently? We always mix it up. We don't wanna do all the same songs every tour. I mean, there's a few songs that ended up becoming like crowd favorites when we play live that we like to try to add each tour, but really we try to mix it up really good. Every time we give people some surprise songs that they wouldn't expect of different albums. On the "Eclipses time... Transcends death" tour we added a few more older songs to celebrate the beginnings of the band. But it's not something we do all the time. We mix everything up from all eras of the band and they work really good altogether. I think the vibe is really awesome. We mix up our set in a proper way. As far as gear goes for myself. I've been playing on B.C. Rich guitars for quite a while. I am getting a SP Custom guitar made. It's a handmade guitar. And it's basically based off the stuff that I like, which is, you know, kind of B.C. Rich Mockingbirdish. Besides that, I use Powered by Omega cabinets. I use Revolt amplifiers. Both companies are really great quality. I mean, the sound and the power that comes out is totally killer. I just got a killer new Enki case. They're a really cool brand. As far as strings. I use Curt Mangan strings. Also I got a killer, a new cabinet case for my Powered by Omega cabs from Calzone cases. It's a company out of the US, really killer. Besides that, I use InTune guitar picks and, of course, I always use Kahler tremolos. For me they are the best.
You've been running your own label Ibex Moon Records for 12 years. Why did you put it on rest?
- Okay, as far as Ibex Moon is concerned. Yes, it's dead as far as the label goes. It just was getting to be way too much work and I wasn't able to make enough money to kinda keep it going. At that time, there was issues in my personal life that caused me to focus on other aspects of my life then spending twenty hours of my day working on Ibex Moon Records. It was an interesting, great experience to do the label, but it was really difficult to also do the band at full force. Playing in a band is way more fun than running a record label. But I mean I was able to do some amazing stuff with some great bands. Obviously, Asphyx "Death... The Brutal Way" was a great release and I also did Master's "Slaves to Society", is another amazing album by Master. It's actually one of my favorite Master albums that I was fortunate to put out. We did Denial Fiend, two of their albums, which are great. One with the legendary Kam Lee on vocals, the first one, on the second they had Blaine from The Accüsed on vocals. I mean, it was great to work with such amazing musicians like that. Also they had Terry Butler on bass, Sam Williams on guitar, Curt from Nasty Savage on drums and then they had Rob from D.R.I. on drums for a while. It was just a phenomenal line-up for the Denial Fiend stuff. You know, a lot of great stuff like Headhunter D.C., Thornafire from Chile and the 2 albums from Funerus. There were so many more great releases we did, I can't even remember at the moment, but I just know that it was very much an honor. Oh yeah, we did Fatalist, which is a really good one. Gravehill, which is also really great band and Cardiac Arrest, how can I forget them. They are like one of my favorites. I also did 2 albums for Estuary. It was really a killer lineup of bands I was working with. It's sad that at the time when doing the label legal downloading was getting super rabid. I just wasn't able to make the money to keep things going. I was making like one dollar in hour from the label or something like that. But it was cool, I've had a great time and I thank everybody for working with me and believing in me. It's been an absolute honor to work with all the bands.
What are the latest news from the Funerus camp? When can we expect the continuation to the "The Black Death" EP? How did you hook up with Alwin Zuur of Asphyx for that occasion?
- I'm not exactly sure, I think around 2015 I stopped playing for Funerus. I just couldn't continue doing it with all the work I was doing with Incantation and I wasn't gonna do something half ass band-wise, it's not fair to anyone. I know they wanted to continue and do a lot of stuff and I totally understand they gotta do what they gotta do, which is totally cool. Yeah, the band's getting some great opportunities. They're playing Maryland Deathfest this year and, I know, they've played a show in New York city recently with Mortician and stuff. So it's good to see the band up and going. I mean, the band obviously means a lot to me, you know, musically and what not. I always had a great time playing in Funerus. So once it wasn't fun for me to do anymore, I knew it was time for me to go, because that's the kind of association I have with the band. As far as new material goes I really don't know what they're planning on doing as far as that. "The Black Death" EP was the last thing I've recorded with them. Alwin, he's actually always been a big fan of Funerus. So when we decided to work with Frank Schilperoort (he also does session work for Incantation) it just seemed right, you know, why not let Alwin contribute too to it. Jill, Sam and I wrote the songs, but we had Alwin kinda add his flavor to it, which was a lot of fun for us. Alwin's a great guy and it was awesome to work with him.
Three years ago there was a special release called "Rotting Spiritual Embodiment", a live material from 1991, treated by Necroharmonic Productions. Whose idea was to excavate this historical gem?
- Yes, the "Rotting Spiritual Embodiment" live album I think was the idea of Roy Fox. I mean, Roy Fox at that time used to help us out at a lot of shows and stuff like that. So he would also records the shows live on a portable cassette recorder or make sure there was soundboard recordings at the shows and stuff like that. So a couple years back he brought up to me that he was gonna release the "Rotting Spiritual Embodiment" live and I was totally down with it. I just wanted to make sure that the quality was gonna be something that I felt comfortable releasing, so I wanted to be a part of it. The era of the band on 1991 was great and a special time in the band history. I think everybody involved in the band would appreciate that. I mean, we were working really hard and we just had a good vibe in the band, the vision of the band was really starting to come together, which was really nice. You know, for me it's fun to listen to some of that older stuff that we did. What else? I think it's cool. I understand that it's a good historical piece to listen to for fans of the band. I know, any band that I am a fan of, I love hearing their older stuff live and hearing how they became what they were. So yeah, it's cool. I'm down with it.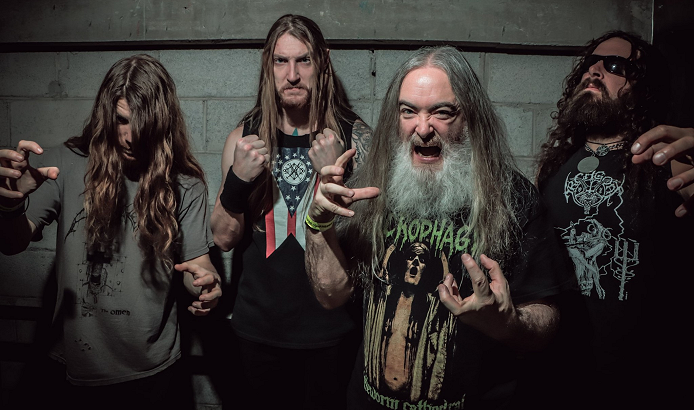 Have to admit the Incantation clothing was always something special and of supreme quality. Who is in charge for the graphics and who designs your merchandise nowadays?
- Oh, it's awesome that you really enjoy the designs and quality of our shirts. We take a lot of pride in trying to make sure the shirts are of the best quality. Also print-wise, as far as the quality of the material and all that kind of stuff. You wanna make sure that it's gonna last. But yeah, we've been very fortunate, we had some really great artists work with us throughout the years. You know, Chris Moyen and Dahmer Art and a few others. Also Kristoff Bates did a lot of the designs for a bunch of years. Now, the guys from Hells Headbangers been helping us out with layout stuff too and, you know, everything Hells Headbangers touches is amazing so they're doing a great job and actually helping us out a lot with that kind of stuff. Some of the art layout I do myself, I am not really great at doing layouts and graphic art stuff, but I do the best that I can. At least I know the ballpark vision we are looking for, but my stuff is not as good as somebody who is more professional at it. And we also have JSR do some of our designs too. They did some great designs for the last tour. If you guys are interested in any merch, you can always go to
incantation.com
that's our personal webstore and also at JSR music they have some touring stock and stuff like that. You can also buy our merch at our bandcamp site, those are the main sites if you wanna support the band directly. With these sites you can get the original and not bootlegs, 'cause like most other old-school death metal bands we have been bootlegged like crazy by a lot of different people across the world. People for some reason think that they have the right to make and sell our stuff without even being kind enough to contact us and try to work out some kind of deal.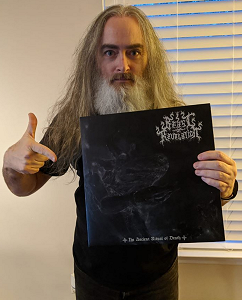 What kind of music do you listen to lately with pleasure? Please name us some of your all-time favorites and the last 5 bought records of yours.
- OK, as far the stuff I've been listening to lately. One off-hand is the brand new Kurnugia. The last recording they did is totally badass. It should be released by the time this interview is posted. Definitely worth checking it out. Totally killer stuff. Also the band Mortiferum. Really great. I don't know a lot about the band, but the last album caught my ear and is really killer stuff. I really enjoyed the overall vibe of the album. It's great to see that there is some real death metal out there and it's really awesome. Also a band called Malefic Levitation and Witch Vomit. Some really good stuff, some really great atmosphere in the music. Also, like you mentioned earlier, Shed the Skin is also another one. The new album by them is really killer. Also Ascended Dead. They have a great old-school dark death vibe.
As far as the last few albums I've bought. Let me think. Well, I've bought the Possessed album "Revelations of Oblivion". A really great album. I'm so happy that Possessed is back in killer form. Even seen them live a couple of times recently. They are totally awesome! Also the Candlemass album "The Door to Doom". That was really a great album too. I'm really happy to see they have their old vocalist back. Totally classic! Actually, I seen them live recently too and they were totally killer! Heavy as fuck! Also the Mortiferum "Disgorged from Psychotic Depths". Actually, I did pick that one up too recently after hearing it from Kyle, 'cause I've thought it was so good. That's pretty much all I can think of at the moment. Yeah, I just can't really think of anything else, but those three are really good choices anyway.
At the end, please send your written incantations to the readers and unfold your future plans.
- Obviously, thanks to everybody for the support. Thank you for the interview. I'm really looking forward to a killer next run. We have a new album coming out and will have a release date real soon. We're really happy with it. It came out great. I think it's quality death metal and Incantation fans are gonna enjoy it. I also did vocals for a project with A.J. Temple and Bob Bagchus called Beast of Revelation. A really great, total death doom band. Totally proud to be a part of that. Also Tribe of Pazuzu is another band that I did some guitar work for, great death metal stuff. So definitely check them out as well. And check out
incantation.com
for band info and look out for a new album coming out soon. As far as all you Ukraine fucks out there. Man, we never got to play in Ukraine. We've been wanting to. Every time there is always some excuse why we can't. So hopefully somebody in Ukraine will help make this happen, because we really wanna play for all you guys. Anyway, see you guys out on the road. Hail the goat! And thank you so much for the support. It's been thirty years for us doing death metal and without you guys it wouldn't be able to happen. So thank you so much! Hell yeah, motherfuckers!