Let me present you a quick interview with the ultra-promising quartet called BleedSkin. The Belgian female fronted death metal squad just released its new stuff "Blood Reign". Needless to say, it impressed me immediately, so I felt the time is right to ask them a few questions. My questions were answered by the whole band. Enjoy the read!!!



Hi there! First of all, congratulations on your recently released debut album "Blood Reign". I think there is a lot of progress compared to "The Rotten One" EP. How do you see this? What is the feedback like so far?
Julien: Hi! Thanks. New line up, new influences, new way to work, more experience, improved skills... "Blood Reign" is a mix of influences from old and new members (lyrics from Logan and Anouk). We are aware that there are some imperfections in some songs, but we didn't want to go too far with editing... in such a way to keep the human side of our music. Feedbacks are generally good!
It was recorded, mixed and mastered by Benoît Polomé at Noise Factory Studio/SoundWave Studio. I am sure you're all happy with the end result, right? How was it to work with him? By the way, how long did it take you to finish the recordings for "Blood Reign"?
Julien: Very happy! It was very great to work with Benoît! He was really implicated in the project... skilled, good advisor, good gear...
Anouk: We recorded the album from February to March (only the weekends, we have jobs during the week). The album was scheduled for release in June, but due to the health crisis we had to postpone it until October. We took this as an opportunity so we gave ourselves time to do things right the way we wanted.
I know, it is a bit too early to talk about it yet, nevertheless do you have any songs written for your next material? Will it be a full-length record or another EP? Musically, in what direction will it be?
Céline: Yes, we are writing new stuff! I think it will be a full-length album and the next songs will be more technical and brutal.
Julien: With the Covid crisis we have time to work on new stuff, not just work on shows.
After the recording sessions of "Blood Reign", your lead guitarist, namely Benjamin Lefèvre, has parted ways with BleedSkin and you've become a quartet. Please introduce us the current band members as well as what kind of daylight jobs you're doing to survive these days. Would you please also mention your favorite hobbies beside playing death metal in BleedSkin?
Rémy: Yes, Benjamin left the band after the recording for personal reasons. He still remains a good friend! We don't want to replace him, so we need to re-work our songs and sound.
Anouk: We are 4 musicians now: Céline Mazay – guitars (2016-...), Julien Vanhees – drums (2018-...), Rémy Adam – bass (2016-...), Anouk Debecq – vocals (2019-...).
Julien: My hobbies... Euuuuh... Sex, drugs and rock 'n' roll???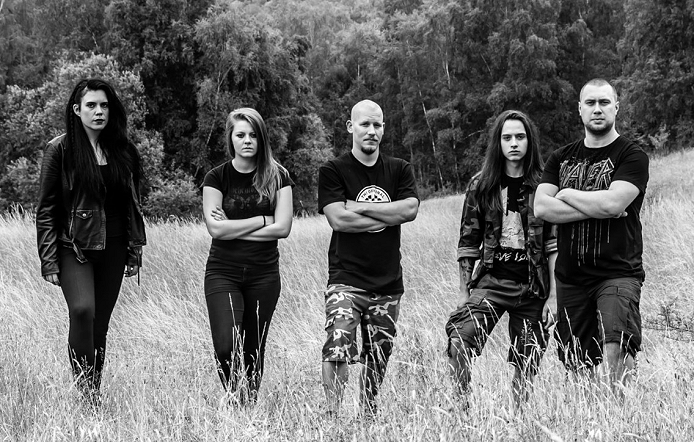 Your debut album has lyrics written by both Anouk and Logan (ex-member of BleedSkin). While Logan's lyrics were mainly dealing with killers, blood and gore (kind of cliché stuff, I would say), then Anouk's part of the lyrics were about personal experiences, violence, sci-fi, chaos theory, psychological dysfunctions and distortions of the humans, etc. I found her lyrics pretty actual and witty. So, my question is what kind of topics she's going to dissect in the future? What motivates her to write lyrics in such directions?
Anouk: For future compositions, I will focus the lyrics on science fiction, psychology and horror. I love films and series like Alien, Sunshine, Split, Life, Gravity, Interstellar, The Expenses. These are subjects that inspire me a lot to write the lyrics.
I've been told that you are currently working on some new videos. Please share with us some details on them as well as which songs did you pick up for these video clips?
Julien: We'll be part of the Argentina Online Metal Fest 1 in January 2021. And also, another quarantine live (+- 30 minutes) in Belgium in December. It's a pretty good exercise to play without an audience in live conditions!
Céline: We're preparing some playthroughs from "Blood Reign" and maybe new songs! You'll have to wait and see!
How's the death metal life in Belgium, particularly I am interested in the places where you actually dwell? Would you please recommend some bands from your area? Do you have a lot of metal shops, pubs, clubs or places where you often meet up with other metal friends & fans? Of course, prior to the lockdown times.
Rémy: Belgium has over 1200 metal bands. There are a lot of small independent places, but also a few big festivals in the summer. We can count a lot of small amateur bands, but also renowned bands such as Aborted or Channel Zero.
I can advise you to listen to the friends of Storm Upon the Masses, Poseydon and Demenzia Mortis.
Apropos, do you keep rehearsing with a full-band line-up nowadays? How many times a week do you rehearse? What kind of gear do you use for your live performances and at your rehearsal place? Does it differ a lot?
Céline: I use the same gear for the live performances and for the rehearsals. I'm endorsed by Invaders Amps (great amps, go check their facebook page!). I play on Ibanez and I'm using some pedals. Boss and Amptweaker.
Rémy: I play exactly on the same gear live and at the rehearsal. A Markbass amp, a Spector bass and a Darkglass distortion.
Anouk: We rehearse one or two times a week, sometimes less. It depends a lot on the schedule in our respective private lives.
How does the sale for both of your records go? What kind of merchandise do you have besides the physical CDs? Do you plan any new merch to add shortly?
Céline: It goes well! We also sell t-shirts, patches, beers. You can check our facebook and store. We will maybe add new t-shirts in spring.
Rémy: A lot of metalheads play the songs online and buy CDs on Bandcamp. But we must recognize that it is complicated to promote an album without shows. We are nevertheless very happy with the feedback of the album!
Last blood-soaked words are yours. Please finish the interview the BleedSkin way.
BleedSkin: Thank you for the interview! Don't forget to follow our social networks, you will soon find quarantine shows, playthroughs and new songs! Keep death metal alive!