I am very happy to present you the following interview with Michael DiSalvo, vocalist of Akurion. He told a bunch of interesting facts about his band(s), lyrics and upcoming releases. Read, discover and enjoy every moment of our talk!!!



Hello Michael! The story of Akurion starts in 2012. How the four of you forged into Akurion? Please tell us a bit about the beginnings and the birth of your first single "Yet Ye See Them Not" (2015).
- Rob and I decided to get together and listen to some riffs and some songs that were pretty fleshed out already. I had some lyrics and started to add some ideas to the riffs or songs and it seemed to work pretty well with one another. So we kept at it for a few months and then decided we would have Oli come down to check it out. Once he was in, we asked Tommy if he would be down as well. In fact, the first jam we had was with Tommy, Rob and I and we were working on "Year of the Long Pig" at that time. Oli might have been on tour with Cryptopsy by then, but soon after the 4 of us got together and started writing the album.
Regarding "Yet Ye See Them Not", we wanted to put out a teaser single that we knew was gonna be on the record, but we were not ready to record the full length. So we went into The Grid for an afternoon to work with Chris Donaldson. We wanted a live cut, just like the album would become and that was exactly what we did. Of course, in our minds we wanted to have the full length out much sooner, but life has a funny way of changing plans around whenever it seems fit to.
The music you play I would describe as some kind of weird avant-gardist mix of atmospheric yet technical death metal. How do you see this? Was this musical alloy created intentionally or naturally?
- You know; we went into this with an open mind all across the board. Yes, we knew it was going to be heavy, progressive, technical, melodic and moody, but we never laid out plans to stay within a niche. I would say we quickly realized that we had no boundaries and that we were all on the same page as to us writing a record that we were happy with first and foremost and that helped us solidify the writing process and how we were going to look at these songs in a different light so to speak. When you are not confined, great things can happen. We embraced that and it was extremely important to us.
Your debut album "Come Forth to Me" was released on the 10th of April, 2020 by Redefining Darkness Records. I know that the entire material for it was written back in 2015 and that it was a long painful road until its completion. Now, as it is finally out, how do you feel about it? How the reactions to it were so far?
- We feel exhilarated. A sense of accomplishment to put this record out really. Especially since there was an abundance of roadblocks along the way that many bands may have just called it a day and chalk it up as a failed but fun attempt. Not us. I think it solidified the bonds and kept us focused on the end result. We believe in these songs, but more importantly we believe them in the context of a full record. We went in with the notion that we were writing a record, not just a collection of songs thrown on a record. So yeah, I know we are very pleased with what we achieved. So far the reactions have been quite positive. Releasing the record in a pandemic may have slowed the initial promotion of it, but at year's end, it seems to have picked up some steam again. We know that many ears have not heard the album and we aim to change that situation.
The album features a few special guest appearances. Would you please go into details?
- This was a very important piece to the album as we highlighted sections that we wanted guests to add their flavor in very early on in the writing process. We did not have people come in for the fuck of it, we wanted to have guests come in and make the difference. So by us having Luc Lemay, Lord Worm, JM Leblanc, Genevieve DiSalvo, Austin Taylor, Sylvia Hinz and, of course, Jeanne Strieder involved, it changed the dynamic in each song that they were on. I had lent direction to them, but they added their spirit and that is what we were after.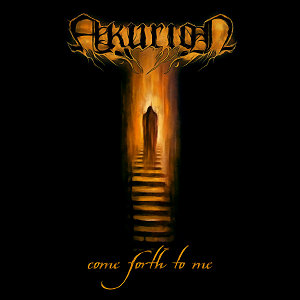 I am personally very interested what the lyrics of Akurion are about? Tell us in brief about all the topics involved there.
- Lyrics are always a very important piece to the puzzle in my mind so I carefully crafted the words to fit the emotion of the songs. I do approach it that way. Really, the songs can take on a completely different impression for the listener and I always found that to be an appealing aspect to music. However, I will say there are songs that deal with grief, depression, social commentary, overcoming those tragedies and even some optimism thrown in the mix. That's my take of course, perhaps they mean something else to the listener... and that is ok and perfectly acceptable in my books.
Recently you've been part of the 2-year anniversary episode of Vox&Hops along with the other vocalists of Cryptopsy. How was it? Do you keep in touch with all the past and present members of Cryptopsy?
- That was super fun! I love all those guys; they are just excellent people. There is no competition and nor should there be, but I think that has increased the friendships, because yes, we were all part of the same band, but solidarity is where it's at. There is no room for egos and bad attitudes and for us, we all get it. For the most part I am in touch with my old band mates and that goes with all my projects. Some I am in touch with more than others, but that's life. There is zero animosity, only love and respect.
There's a new material on the way with a brand new band of yours called Unkle Stalin and the Kommunist Joy. What should we know about this formation? From the few video excerpts I've listened to so far it sounded like an ultra-down-tuned twist between the music of Gorguts and the Dillinger Escape Plan. When do you plan to release the stuff and which label will be in charge for issuing it?
- You know, that is a pretty good analogy of what's to come. It is mean, chaotic, groovy and unique sounding even if that analogy is on point. This project includes Mathieu Bérubé from Teramobil and Unhuman, Patrice Hamelin from Gorguts and Martyr and Alex Hebert from Ages and, of course, myself. We have 6 songs that we are currently in the process of recording and we may even add a 7th to the mix. So far we have not shopped it around so, no news on who will be releasing it. We are wide open to listen to offers. This album is gonna be killer.
Beside these two bands you're also involved in Coma Cluster Void and Conflux. What news can you share from both? Do you plan to record some new material with any of them in the near future?
- Yes, Coma Cluster Void (CCV) is in the beginning stages of putting together our 3rd record. I can say that the songs that we are working on right now are rugged as fuck. It is going to be a vicious record full of surprises. The album will be called "Absurd Romanticism". As far as Conflux is concerned, I was simply asked to record one track and play that song live once. Not sure if Tommy and Chase are going to continue with it, I haven't heard anything about it for some time. I stress that means nothing though, they could very well be knee deep in the writing process.

Somehow I've got the feeling that you're already in the process of creation as for the songs to the next Akurion release, am I right? If so, would you please talk a bit about the new songs, their musical directions and, of course, about the lyrical content for them?
- As of right now, there have been no plans to write another album with Akurion. That does not mean we won't, we are just onto different musical avenues at the moment. Rob has joined one of Quebec's classic metal bands, Necrotic Mutation and Oli is, of course, with Cryptopsy, Cattle Decap and Vengeful. So, time will tell. I will say I am open to it for sure but as of now, we are going about our business of promoting "Come Forth to Me" as much as we can.
At the end, please leave the readers your final thoughts...
- Thank you Kornel and Encomium for having interest in Akurion! Please check out the album and let us know what you think. Cheers!